Image: Anti-gay campaigner Roslyn Phillips from FamilyVoice Australia. [Source: FamilyVoice Australia]
---
Update: 9 March 2016 — FamilyVoice Australia has confirmed, via twitter, that the research we found was, indeed, the study Roslyn Phillips was referring to (not by name, of course).  We have updated this post to reflect this new information.
---
The letters page of the local newspaper often doesn't have the resources to fact check letters.  Often the person vetting letters to the editor for publication may just take at face value claims made in a letter — especially if the claims sound scientific or factually-based — as being just that.
The Australian newspaper may have hit the jackpot recently when it published this gem from Roslyn Phillips, of Tea Tree Gully, SA.
Roslyn's letter:
It's clear Roslyn tuned in to the ABC's Q&A on 29 February 2016, and saw the program on marriage equality, the Safe Schools Coalition, and other pro-equality topics.  Having views clearly at odds with those of openly lesbian Dr Kerryn Phelps', Phillips penned a letter to The Australian, which appeared online:
Amid loud applause on Monday night's Q&A program, Kerryn Phelps claimed that marriage has nothing to do with children. True, not all married people have children. Not all children are conceived within marriage.

But the reason marriage as a lasting man-woman union has been recognised in almost all cultures throughout recorded history is because of children — and their need to be raised in a stable, caring environment.

That environment has been shown, time and again, to be with their biological mother and father, committed to each other and the children they have created together. There are, of course, exceptions to this rule.

But a very large 2010 US survey of child abuse and neglect studied six different family types, and found that families headed by two natural married parents were safest by far on every measure.
It's a statistical analysis of a subset of data relating to child abuse, maltreatment and neglect in 2005 and 2006.  The executive summary of the document describes the objectives of the report and the methodologies used.
The principal objectives of the NIS–4 were to provide updated estimates of the incidence of child abuse and neglect in the United States and measure changes in incidence from the earlier studies.

The NIS serves as the nation's needs assessment on child abuse and neglect. It offers a unique perspective on the scope of the problem beyond the children that child protective service (CPS) agencies investigate.
The study analysed the distribution of such abuse and harm by various characteristics.  The report analysed the distribution of harm based on:
the characteristics of the child (their sex, age, race/ethnicity, disability, school enrolment); and
the family characteristics (parents' employment, socioeconomic status, family structure and living arrangements, whether grandparents were caregivers, family size, whether the family was rural or urban); and
by the characteristics of the perpetrator (relationship to child, sex, age, the child's race and the child's relationship to the perpetrator, levels of drug and alcohol use and mental illness.)
On page 12, the report describes the analysis of abuse and neglect ased on family structure and living arrangements:
Family structure and living arrangement: Family structure reflects the number of parents in the household and their relationship to the child; living arrangement reflects their marital or cohabitation status. Considering both factors, the NIS–4 classified children into six categories:

• living with two married biological parents,

• living with other married parents (e.g., step-parent, adoptive parent),

• living with two unmarried parents,

• living with one parent who had an unmarried partner in the household,

• living with one parent who had no partner in the household, and

• living with no parent.
The report then continues with a brief summary of the broad findings:
The groups differed in rates of every maltreatment category and across both definitional standards. Children living with their married biological parents universally had the lowest rate, whereas those living with a single parent who had a cohabiting partner in the household had the highest rate in all maltreatment categories.

Compared to children living with married biological parents, those whose single parent had a live-in partner had more than 8 times the rate of maltreatment overall, over 10 times the rate of abuse, and nearly 8 times the rate of neglect.
As confirmed by FamilyVoice Australia, this is the report Phillips was inferring in her letter: six family types, and 'married biological parents' being the lowest rate of abuse, neglect and harm.
But, the report does not delve once into the sexual orientation or gender identity of parents.  Not once.  Nowhere in the study does it mention sexual orientation, sexuality, gay, lesbian, same-sex or homosexual parenting.
The study measured, basically, which broad structures of family in which abuse, neglect or harm occurred.  It made no comments about whether same-sex families led to abuse, neglect or harm.
But in a quick gloss over, and a reference to the lower prevalence among children in married families, Phillips has inferred non-heterosexual — and therefore same-sex — parenting as being an unstable environment.  But the study simply does not support such a conclusion.  If this is the report Phillips is suggesting in her letter, how could Phillips come to that conclusion?
So who is Roslyn Phillips?
A good question! She's pictured at the top of this post.  A very familiar version is also contained on the FamilyVoice Australia website, where she's billed as the voluntary national research officer.  Her husband is the national president of the organisation.
Roslyn Phillips is no stranger to the anti-gay, anti-abortion, anti-surrogacy, etc movement.
And it's not the first time that Phillips has embraced 'research' to suggest that LGBTI parenting is somehow dangerous too.  In 2012, Phillips and FamilyVoice Australia claimed on their website that a new study had debunked claims that children of same-sex parents do just as well as children in heterosexual relationships.  Of course, that study they so lauded was the Mark Regnerus study that has been thoroughly and scientifically debunked, over and over and over and over again.
She's been quote prominent at speaking out about what she alarmingly calls the dangers of homosexual sex. There was that one time when Phillips' compared gay sex to swimming in a sewer in FAVA's own newsletter, and circulated to politicians in New South Wales.  At the time, the NSW Gay and Lesbian Rights Lobby's, Justin Koonen, said:
Of the two references the author cites on this issue, one is from the author's own newsletter, while the other (the Journal of Human Sexuality) is a publication of the National Association for Research and Therapy of Homosexuality. This has no scientific credibility whatsoever.
Indeed.  NARTH is an anti-gay US-based organisation into curing gays.  It certainly has no credibility.
And then there was that time when Phillips' came under fire for sending a press release on behalf of FamilyVoice Australia claiming that tradesmen across Australia would get confused by marriage equality!  Quote:
The release included a diagram depicting appliances and plumbing equipment being joined together – like male and female sex organs.

Image: FamilyVoice Australia's media release. [Source: news.com.au]

"As any tradie can tell you, marriage has always been a joining of two opposites. You cannot properly unite two of the same," Mrs Phillips said.

"By definition, marriage is a complementary, male-female union. Only that union has the potential to create and raise children with both male and female role models.

"It is not 'equality' to disregard reality. A same-sex couple will always be different from an opposite sex couple.

"Let's not confuse apprentice electricians, plumbers and carpenters in the ACT – lest the lights go out, the drains leak and the chairs collapse in the Legislative Assembly!"
Will someone think of the tradesmen?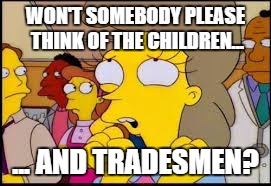 Image: Will someone think of the tradesmen? [Source: SayYes]
Well, who are FamilyVoice Australia?
You may remember them under their former name: The Australian Festival of Light and Community Standards Organisation.
FamilyVoice Australia runs campaigns against many groups in our community, including against equality for LGBTI people.  For example, they have been agitating to end the Safe Schools Coalition material back when Tony Abbott was Prime Minister, in March 2015. Phillips' even asked other fundamentalist Christian websites, like the Endeavour Forum, to oppose Safe Schools.
You can read more about Family Voice Australia on their Wikipedia page.
TheStirrer.com.au website recently adapted this article, but added further research into FamilyVoice Australia — including their financial backers.  They wrote:
FamilyVoice Australia may be small, but has some very wealthy backers, including Frank Seeley, owner and chairman of Seeley International, Australia's biggest heating and air conditioning company (Breezair, Convair, Braemar, Coolair). FAVA also works very closely with the Australian Christian Lobby, Fred Nile, and other fringe extremist 'Christian' groups.
Conclusion:
Phillips' has quoted from a US study that makes no claims about same-sex parenting, and in her letter has inferred that non-heterosexual parenting may be inferior and may lead to greater risks of harm, abuse and neglect to children.  Say Yes believes this study we have found does not support those conclusions, but we've emailed one of the authors of the study to be sure.
Citations:
Sedlak, A.J., Mettenburg, J., Basena, M., Petta, I., McPherson, K., Greene, A., and Li, S. (2010). Fourth National Incidence Study of Child Abuse and Neglect (NIS–4): Report to Congress. Washington, DC: U.S. Department of Health and Human Services, Administration for Children and Families.