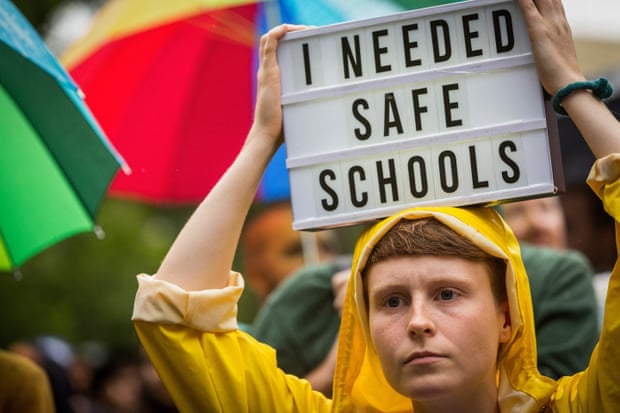 Image: Demonstrator supporting Safe Schools [Source: Guardian Online]
If there's only one article you ever read on the Safe Schools program — or one you want to share with friends, colleagues and family — this is the article.
Writing for the The Guardian Australia, Chris Bush responds to former Prime Minister Tony Abbott's call to de-fund the program.  A program, mind you, that was first given federal government funding while Abbott was prime minister.
Chris Bush is an educator and helped write the Safe Schools material — and he explains the history of how the program was formulated and what exactly is in the program, and why it is vital:
I was one of the authors of the program and I know exactly what it is. I also know how vital it is to the lives of young LGBTI students; if it had been around when I was at school it would have changed my life.
It wasn't formulated by gay activists pushing a gender agenda, as some critics have suggested.  That's nonsense.  The resultant outcome was a work supported by international best practice, peak mental health support organisations and academics:
I started working on All of Us with a group of young people who could tell honest, real stories. We worked in consultation with educational experts and drew on international best practice. Three hundred and sixty academics signed an open letter to the prime minister supporting the project, and two of the biggest mental health organisations in Australia, Beyond Blue and Headspace, also voiced their support.
In the article, he asks serious questions about the motivations behind Abbott, and the Australian Christian Lobby:
What reasonably-minded person would not want to see those aims being met in schools around Australia? Surely we want to see the statistics of youth LGBTI self-harm and suicide fall. Tony Abbott, like the Australian Christian Lobby's Lyle Shelton, is misinformed, and I'm certain that neither of them have actually read the resource. Nor are they aware of the impact of what they are trying to take away.
Chris Bush also suggested that if the abuse and bullying being experienced by students was on a different basis, Safe Schools would be being lauded:
So I ask you: What if 80% of the racist abuse that non-white Australians experienced occurred in schools? What if people living with a disability had rates of suicide six times the rate of their peers? We would design educational programs to change that. We would work day and night to raise levels of respect and understanding. And we would rightly be criticised if, as educators, we failed to do so.
And, further, Bush questions:
Why is it any different when it comes to combating homophobia and transphobia, and to reducing LGBTI youth suicide? Why would anyone oppose the Safe Schools Coalition or All of Us unless their objection is actually an objection to the existence of LGBTI people?
Quite!  Bush further contends that silence is one of the biggest enemies to the mental health of LGBTI students:
But if you are told enough times – explicitly and implicitly – that you don't belong, that you don't exist, and you are starved of the opportunity to see other people just like you, it can lead to despair. It's not seeing yourself anywhere. It's the lack of role models. It's society's refusal to acknowledge that you exist. And it's this silence that groups like the Australian Christian Lobby want to maintain.
And there is a call to action to speak up against the silence that the opponents of Safe Schools wants to exist:
We need people to speak up. The overwhelming majority of Australians support the aims of the Safe School's Coalition and want to see the program continue. If we don't call out this hate for what it is, we fail to use the gift of our education, our enlightened thought, our respect, understanding and tolerance that's the hallmark of an inclusive Australia. It's this that I worry we are losing.
And for this reason, you should share Chris Bull's article far and wide.  Tell your friends and family, your work colleagues — make them allies — about why Safe Schools matters and why ending the program will put the lives of kids at risk.
Of course, you may find you have people who you share this article with begin to raise concerns that have been raised by some virulently anti-gay activists in our community: like George Christensen, Eric Abetz, Tony Abbott, and Lyle Shelton from the Australian Christian Lobby.
But you can remind them that there has already been a goverment inquiry into the program that found it should not be scrapped.  Naturally, these naysayers don't like the result, as highlighted by Queensland Liberal-National Party MP Warren Entsch:
Warren Entsch, one of the Coalition's leading LGBTI advocates, said: "The good professor didn't confirm some of the nonsense people have been saying about the program so now they are shooting the messenger.

"Nothing would placate the usual suspects."

Mr Entsch said Professor Louden dismissed as inaccurate concerns the program materials were sending children to pornographic content.

"As the professor said, there are elements that can be moderated," he said.

"Some of the hysteria around this shows a clear lack of understanding about the issues some of our children face. This is not about teaching or coaching kids to be gay.

"There are schools where children need support and they need resources to help them. There is nothing in the program that is compulsory."
Yes, the attacks of Abbott, Abetz, Christensen and the ACL's Shelton are described as: "shooting the messenger", "nonsense", "hysteria", "a lack of understanding".  You might want to remind any naysayers that they are holding similarly uninformed, hysterical nonsense.